So what do you make for the computer nerd / RPG & board gamer guy for his 40th birthday?
A Brain Monster hat, of course. Complete with four sharp teeth and two large googly eyes.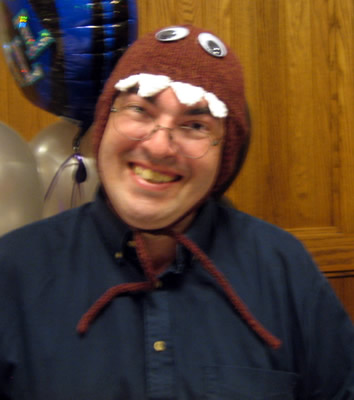 Luckily he has a very twisted sense of humor and was willing to put it on and pose for pictures. Of course, don't that pleasant grin fool you. I wasn't the only one at his surprise party tonight that might be getting a little pay back later on (heh).
I found this pattern on Ravelry a week or two ago, just about the time we got the invitation for this particular friend's 40th birthday surprise party. Since Richard was going to write him a story as his present (we both decided it would be more fun to make gifts for him ourselves), I showed him the hat as an idea for a gift. Richard agreed it was perfect for him, since he's got a twisted enough sense of humor to find it fun, so I rummaged through my stash and found some red heathered Wool-Ease that looked like just the right color, printed out the pattern, and cast on.
I didn't check until too late to see if I had any white yarn – turns out the only white I had was cotton – so the teeth are made of cotton instead of a wool blend. Luckily, however, the way the pattern is written provides just enough curve to the teeth so that they don't automatically curl outward like one might normally expect. A quick trip to Michaels to find googly eyes (and some velcro to attach them) and I was all set.
I think everyone at the party got a huge kick out of it, including the recipient. It was a quick, easy hat to knit, the pattern is well written, and it generated the desired response, so it was definitely worth the hours I spent on it over the past several days.